The Next Big Thing in Skin Care: Microneedling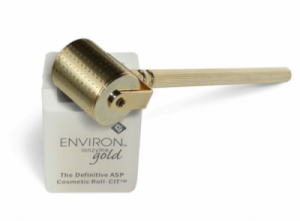 A few weeks ago Vogue wrote a great article on Microneedling and how it's the next big thing in skin care. Lucky for you, we carry the Environ Cosmetic Gold Roll Cit (pictured left). The article explains microneedling as "a technique that uses a needle studded wand into the skin with the goal of spurring collagen growth."
The Environ Cosmetic Gold Roll Cit is designed with 260 ultra fine needles. Our skin has natural protective layers so once that protective layer is penetrated, the active ingredients in skin care products can reach your skin deeper thus making the products much more effective than by applying topically.
The main benefit of using the Environ instrument is to enhance the perfusion of the ingredients found in the Environ products, which will assist in healthier looking skin and will hasten the delivery of the Environ promise of beautiful skin for a lifetime.
The Cosmetic Intensive Treatments instrument together with topical Environ products may assist to:
Restore the look of skin tightness in the early stages of aging
Speed up the appearance of a visible reduction of pigmented marks
Support the firmer look of thin, fragile skin
Reduce the appearance of fine lines
Soften the appearance of scars and uneven skin tone
Using this instrument causes no damage to the skin. There may be slight and immediate redness but that should diminish quickly leaving your skin looking smooth, healthy and plump. So contact us for a consultation to begin enjoying the many benefits of the Environ Roll Cit!
Comments