Detox Strawberry Lemon Spinach Smoothie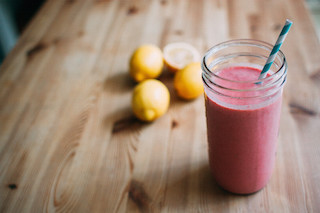 We love our smoothies at Renew. To have a healthy, glowing skin it is of course important to use the right products and develop a skin care routine. Just as important though, is our diet. What we eat and drink is so important to our health and skin. After all, our skin is a direct reflection of our overall health.
Our Detox Strawberry Lemon Spinach Smoothie has loads of health benefits. Citric acid found in lemon juice helps to gradually reduce spots, scars and evens out your skin tone. The anti-bacterial and anti-fungal properties also help to combat acne. Strawberries are a good source of Vitamin C, a vitamin that is known to help burn fat. Your healthy greens like spinach is great for your digestive system. Parsley is a natural diuretic and is packed with anti-oxidants. Recipe below. Enjoy!
– a handful of organic spinach
– a handful of organic parsley
– 2 cups of organic strawberries
– 1/2 organic lemon
– teaspoon of chia seeds
– 2 scoops of ice
Comments